This past week my dad visited Seattle. Seattle's great and it's fun hanging out with my dad, so it was easy to go different places and smile. As we wandered the city, museums, and my home, I realized two essential things about smiling.
1. Energy lives behind smiles.
2. Smiles inspire, transmitting energy and smiles to others.
On Monday, dad and I went to Pike Place Market to pick up food to make dinner. Pike Place Market is filled with energy. We bought sea scallops at the famous fish market. It's the one that appears in those "fabulous customer service" videos because, well, they have fabulous customer service. It's not all handshakes and nice-ness, it's energy. They are chanting and throwing fish around. And you know what? It's that energy creating smiles. People literally stand around watching them, smiling.
So we bought sea scallops and when we signed for the credit card, the orange overalls guy says, "Thanks for the tip! We love tips!" then he yells, or bellows might be more accurate, "We got a tip!" Then all the other orange overalls yell, "We got a tip!" I was smiling by then, also embarassed, but smiling. Rarely does leaving a tip make me feel quite so happy.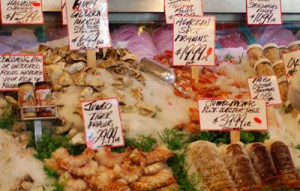 This experience got me thinking, smiling is really hard to do if you're feeling drained. It takes energy. You have to be excited, inspired, or touched by something to smile.
This also got me thinking about how much I make my co-workers smile and how much they make me smile. It's actually an essential element of a work environment (just as much as personal relationships), but I had never thought about it before. If you're talking about work, energized by it, enjoying it, you're going to smile. And if you're doing it right, you'll be inspired to smile by those you work with and you'll inspire them to smile too.
Here's to hoping that all of you out there are smiling! Smiling is too important to forego. Dad and I were inspired to go home and cook an amazing dinner, all while smiling. (Well, dad did most of the cooking.) It was delicious!